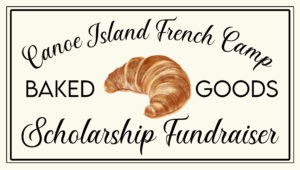 Orcas and Shaw residents! Canoe Island French Camp is selling artisan baked goods in 2020 in support of CIFC's unrestricted fund. Eat well and support a great cause. Alena, our Kitchen Manager/Patissière, makes all our baked goods from scratch on Canoe Island. Alena has classic training in culinary arts with a concentration in French cuisine and has years of experience. Anyone who has attended a program on Canoe Island in the past five years has enjoyed her handiwork.
Use our simple online form to place an order each week or sign up for a monthly subscription to receive a discount. Orders should be placed by Wednesday at noon and you can pick up your fresh treats on Friday.
For Orcas residents, pick-up will be at our camp house right next to the ferry landing on Orcas. The address is 278 Killebrew Lake Rd.
Shaw residents will pick-up from the Shaw General Store.
Note March 2020: During the coronavirus pandemic, we are arranging no-contact pick-ups. To facilitate this, we ask that everyone placing an order pay online via credit card. We will send an invoice when we email to confirm your order.
Baked Goods on Offer
Canoe Island Sourdough – $7.00
A two pound loaf made with a naturally leavened sour starter cultivated right here on Canoe Island.
French Camp Baguette – $3.50 per baguette, $6 for two
Made over a three day process, this cold fermented baguette is packed with flavor.
Classic Croissants – $3.00, $10 for four, $25 for a dozen
These light and flaky croissants are hand rolled and made with European butter.
Pain au Chocolat – $3.25, $12 for four, $30 for a dozen
Made from our classic croissant dough and filled with dark chocolate.
For general inquiries, please email alena@canoeisland.org