A Board of Directors oversees and supports the operation of Canoe Island French Camp to help insure program and facility quality and safety.
Susan West, President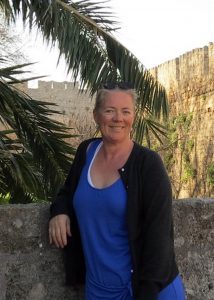 Susan West is an immigration attorney. She and her teenaged daughter Ria and their Golden Retriever Alex live on nearby San Juan Island, where Ria attends the Spring Street International School and sails competitively. The two of them travel extensively, most recently to Costa Rica; Thailand, Burma, and China; Greece, Italy, and of course France.
After graduating from Reed College, in Portland, Oregon, she went to graduate school at UCLA to study conservation biology, and attended the University of Michigan Law School. She loves to kayak, sail, cook, host friends, read, and garden. She is also a bit of a political junkie and is passionate about civil rights, immigrant rights, and art & science education.
Susan and her daughter sought out Canoe Island French Camp because it combines French language and culture, marine and conservation biology, and sailing in the beautiful San Juan Islands. They have formed deep bonds within its community of like-minded yet diverse people. Their love for Canoe Island began at Family Camp in 2011, and Ria has attended camp every year since 2012. Susan joined the board in 2012 and has been president since 2016.

Laura St. John, Vice-President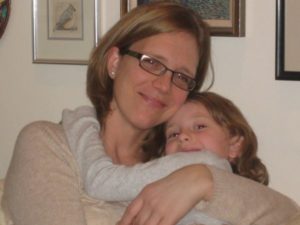 Laura was introduced to Canoe in 2008 through a family camp weekend and the whole family fell in love. They have been to family camp every year since. Her daughter Jillian has attended session 1 since turning 9 in 2011 and younger brother Reed is ready to go summer 2014. Both kids attend the French American International School and are fluent in French. Laura studied French in high school and has a large extended family in the south of France. Laura is a finance controller at Intel. She has an MBA and hopes her extensive experience in long term strategic planning can be put to good use for CIFC!

Stuart Carmichael, Secretary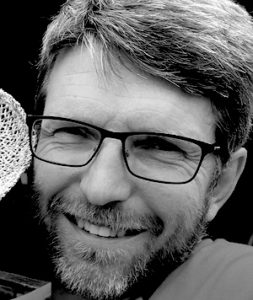 Stuart is a Software Engineer from Canada who also builds cargo bikes. He, his wife and their kids have bicycle camped through France on a number of extended trips, living off pain au chocolat along the way. With his wife's gift for pronunciation and his mind for vocabulary, together they almost add up to a fluent French speaker. Their kids speak french much better than their parents. He and his family discovered Canoe Island almost a decade ago and have been coming back year after year.
Shannon Tracy, Treasurer
Shannon Tracy is a CFO for Yalla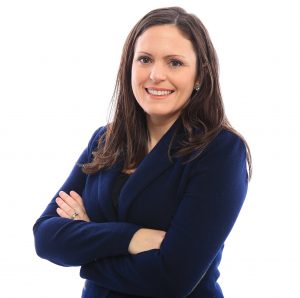 Mediterranean, a Mediterranean cuisine restaurant chain. She grew up going to Canoe Island French Camp as a camper from age 10 to 16 years old and then returned for three summers as a counselor and Program Director. Shannon has been heavily involved with Canoe Island alumni since her graduation from UC San Diego, where she earned her degree in Economics and a minor in French Literature. Canoe Island was a major influence on why she pursued French in her college studies. She looks forward to the day her daughters, Amelie and Juliette, are old enough to attend French Camp.
Dan Root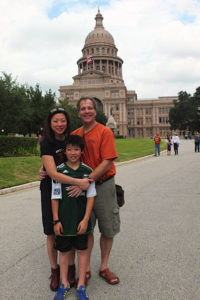 Dan is a Sleep Medicine Physician at Oregon Sleep Associates, in Portland, Oregon, He joined the Board in 2013. Originally from Houston, Texas, he moved to Portland for training and has lived the for most of the past 22 years. He has sailed in the San Juan Islands many times and has a love of the outdoors, French culture and cuisine, and science. He joined the Board and supports Canoe Island because "It is a wonderful combination of these interests in addition to a focus on internationalism and the environment." His son Otis attends the French American International School in Portland, and along with his wife Julie, they have spent many wonderful weekends at the camp.
Catherine Lheureux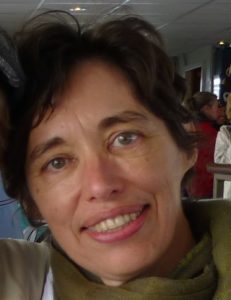 Catherine Lheureux grew up in France and so far has moved to the United States twice since the early 80's. She was still a teenager when she came to live in California, and studied at UC Santa Cruz and UC Berkeley, where she earned a B.A. and a Master's degree in Cultural Anthropology. When she returned to France a few years later, she worked in Paris as an editorial assistant, copyright specialist, and translator for Editions du Seuil, one of the largest French publishing companies. When she came back to the United States in 2000 with her French husband Christian, an antique furniture restorer trained in Paris, and her son Yann, now 16 years old, she studied French literature while working as a French teaching assistant for the Department of Romance Languages at the University of Washington.
Catherine started teaching middle and high school French at the Bush School in Seattle in 2006. She is also in charge of the French homestay program at her school and sends high school students to France for 11 weeks every year to live with a family and experience the French way of life. Catherine is passionate about teaching. It is her calling.
Catherine's son Yann, who is a fluent French speaker, has been an enthusiastic Canoe Island camper for the last 5 years and plans to become a counselor in a few years. Catherine thinks that Canoe Island is a truly unique and most beautiful place in the Northwest, and she is thankful that its French program has given her son a deeper appreciation of his culture and language.

Lowell Bowditch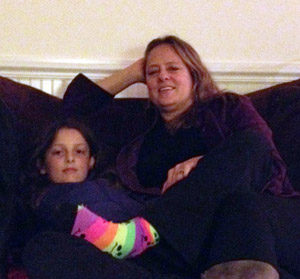 Lowell is a Professor of Classics at the University of Oregon. She has a Ph.D. in Comparative Literature from Brown University, where she studied French literature in addition to Greek and Latin. Her daughter, Elizabeth, attends a French immersion school in Eugene and the entire family visits France as often as possible. They discovered Canoe Island during a series of work weekends in 2012 and were smitten by its natural beauty, magic, sense of adventure, and French culture. Elizabeth has been to Canoe Island summer camp for two years now and plans to go for many more. As a board member, Lowell hopes that her background in education can be useful for maintaining the high quality of the curriculum.
Taylor Sproed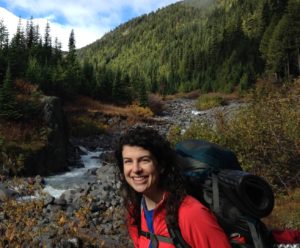 Taylor spent six summers on Canoe Island as a camper, one summer as a kitchen assistant, two summers as a counselor, and one summer as the program coordinator. As an undergraduate, Taylor studied and lived in Rennes during her junior year. She is enthusiastic about bringing her love of French culture, the outdoors, and Canoe Island to the board! She is currently a government lawyer living in California.
Noriko Marshall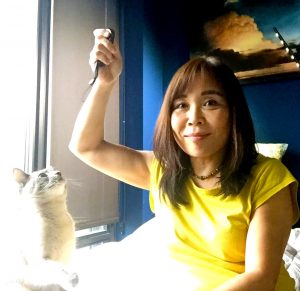 Noriko is a practicing landscape architect who has extensive experience in both public and residential projects. She was born and grew up in an agricultural town in Kyushu, Japan. She loves French movies and novels, and has some close friends in France. She has traveled extensively, including South America and remote Asian communities, and has lived in Spain. She is engaged to help preserve and create places where people enjoy nature without infringing on the health of the environment. She and her family were impressed by CIFC for its natural charm and the people who manage it. She believes that she can bring her expertise to maintain and enhance the quality of the camp with the future in mind.

Aaron Andrews
Aaron Andrews grew up on Puget Sound,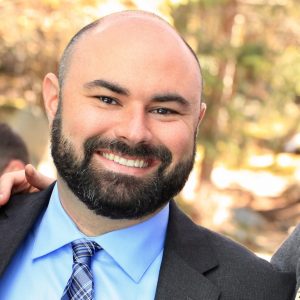 raised with a love for food and cooking. Upongraduating culinary school, Aaron began to travel the globe in search of the best things to eat and drink, including visiting France where he discovered excellent cheeses.
Interspersed between his many foreign adventures, his diverse culinary work experience included time spent working for a small organic farm on Vashon Island, cooking in fine dining establishments in New Zealand & Seattle, and being the owner of an award-winning ice cream manufacturer of eclectic local and seasonal ice cream flavors.
Aaron arrived on Canoe Island for the first time in the spring of 2012, having been hired as the chef for the year. Instantly falling in love with the wonder and beauty of the place, he worked a second summer, and kept connected to the Canoe Island family after that. In the summer of 2016, he and his wife were married on Canoe Island, which introduced the magic of the island to family and friends.
He currently lives in Sweden, and is looking forward to the day when his child can experience summer camp at CIFC.

Teresa Eyler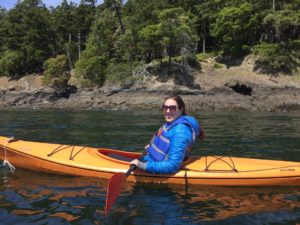 Teresa Eyler is a high school French teacher in the Seattle area. She fell in love with the French language and culture while studying abroad in France during college. Although she grew up in Washington State, it took living 5000 miles from home to find out about Canoe Island. She was a counselor and program director for four summers and comes back for yoga and reunion weekends at least once a year. She had the opportunity to live and work on Lopez Island through a camp connection, and loved the island culture and community. Between Lopez and Canoe, she learned to throw pottery, knit, sing in a choir, and speak (a little) Spanish.
Teresa loves to take advantage of summers off to travel, and tries to go back to France as often as possible. Friendships made on Canoe have been long-lasting, and she feels lucky to have the time to visit these friends all around the world. When she is not teaching and traveling, she is singing in Seattle Ladies Choir, playing trivia, watching movies, or playing board games. She is thrilled to give back to the organization and community that has enriched her life so much.

Nataliya Olson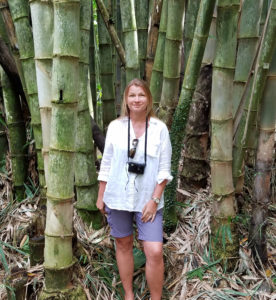 Nataliya and her family connected with Canoe Island through her son, Constantine, who spent two summers as a camper on Canoe and an additional summer as a maintenance assistant. Her family lives in Seattle, WA. Her husband Nels loves the island and has helped with ongoing facility projects. Her son Constantine is a senior at West Seattle high school. Nataliya loves French culture and food and the community of people that Canoe Island brings together. Nataliya was born and grew up in Ivano-Frankivsk, Ukraine. She graduated with an engineering degree from Lviv Polytechnic University and later graduated with an accounting degree from George Mason University in Fairfax, Virginia. She loves to travel and has traveled extensively across South Asia and Europe. Nataliya loves traveling, gardening, photography, and cooking.
She is a CPA who works for a public accounting firm in Seattle, WA and she is happy to be bringing her skills and experience to the Canoe Island team. Nataliya believes that Canoe Island provides great opportunity for children to spend time on the unique island and participate in the great summer camp program, enjoy the nature, and meet great team of camp directors, counselors and staff.