Half of our counselors come from France specifically to bring French culture and a native accent to campers. We personally interview every candidate, receive at least two positive professional references, and do background checks on all staff including our support staff. French applicants come with the highest recommendations from respected international counselor agencies that interview them, check references, do background checks and guarantee their respectability. Together with the American counselors, they form an energetic, enthusiastic and fun team to provide a memorable summer experience for your child.
Executive Director

Ben Straub, originally from Eastern Pennsylvania, serves as Canoe Island's executive director. Ben brings fine technical and mechanical skills to most applications of construction, woodworking, metalworking and manufacturing. Before coming to Washington, he produced and sold museum-quality kaleidoscopes and wooden accessories that were represented in approximately 130 galleries nationwide. Ben has been involved with two philanthropic efforts in South America.
Camp Director

Margaret Schafer has filled many roles on Canoe Island (including animatrice!) and now serves as the Camp Director. She hails from Illinois and has a background in French and English literature, as well as a graduate degree in information science. She has studied, traveled, and worked in France. Margaret lives year-round on Canoe Island with Ben and their dogs and enjoys metalworking, woodworking, and hiking in her free time.
Program Coordinator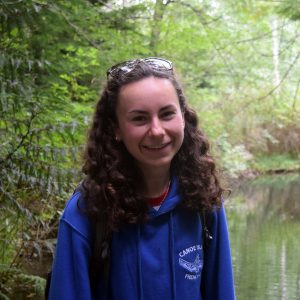 Isabel Alexander, originally from Seattle, has had many previous roles on Canoe Island including counselor, assistant, and even camper! She now serves as the camp's program coordinator and is so excited to be back in the San Juan Islands. Isabel is a recent graduate of Bowdoin College in Maine where she studied French, environmental studies, and biology. She also spent six months living with a host family in Bordeaux and Hossegor, France. In her free time, she enjoys spending time outdoors, several kinds of dance, and creative nonfiction writing.
Camp Dogs

Eloise and Adelaide live year-round on Canoe Island. They are sweet and well-behaved Australian Shepherds who love playing catch and learning new tricks. The dogs spend most of their time outdoors and do not enter the dining hall or tipis or go on the pool deck.
2021 SUMMER STAFF
ALI MORROW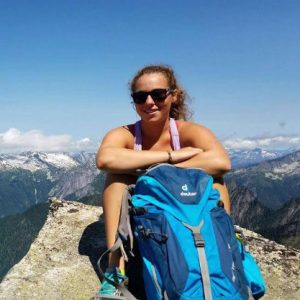 Salut! I am thrilled to be returning to Canoe Island this summer! I was a camper and a volunteer for a number of years, and I cannot wait to spend the summer on Canoe. I am from Bellingham, Washington and am passionate about the Pacific Northwest. I studied chemistry and history for a year at Haverford College in Philadelphia before deciding to take a year to travel and explore my extracurricular interests. Over the last year I earned my Remote EMT certification in the North Cascades, studied the intersection of environmental and political activism in Israel and I am currently interning on a sustainable vineyard in Tuscany. I love ceramics, kayaking, playing tennis and spending time in the great outdoors. I can't wait to spend the summer sharing my love of French culture and the San Juan islands with all of you!
SARA MEYERS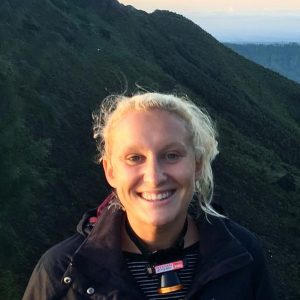 Salut mes amis! I am very much looking forward to returning to Canoe Island for a fourth summer. I am hoping that it will be extra magical to be together on Canoe this year. I grew up in Wisconsin and fell in love with French language and culture when I traveled to France for the first time when I was 15. I went on to study French and Education at University of Wisconsin and since graduating, I have taught English in France, taught French in the US, studied yoga in India, and spent the last year and a half playing outside and teaching some French and yoga in Australia. Travel is my passion and I love exploring and living in as many countries as possible – I am so lucky to have learned bits of how so many other people live. I also love any outdoor activities like camping and trail running as well as cooking, documentaries, music, and many other things! I can't wait to spend a summer with you all and get to know some new campers! A très vite !
ABDELKADER TEMANI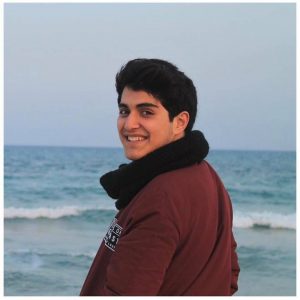 Salut les amis! C'est Abdelkader but you can call me Thomas. I am 21 years old and I am originally from Tunisia. I study at Minerva Schools in KGI and our curriculum is based on global rotation. Thus, so far I've lived in San Francisco, Seoul, and India. I've lived by the beach for 18 years of my life which explains why I like outside activities and hiking. In my free time, I enjoy reading books, listening to my favourite podcast and going to the gym. I am trilingual and my mother tongue is Arabic. Also, I love music and food (cooking as well as eating). Before Covid, I travelled to Turkey and tried the hot air balloon in Cappadocia which was amazing and I am super excited to join Canoe Island this summer and meet all of you. À bientôt!
ANNA FELDMAN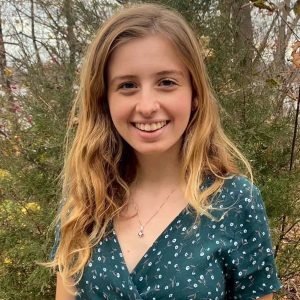 Salut! My name is Anna (pronounced Ah-na) and I can't wait for my first summer as a camp counselor at Canoe Island. I was born and raised in Madison, Wisconsin and now attend the University of Wisconsin-Madison there as well. My family comes from Ukraine, and my first language was Russian. I have always loved to travel and learn about different cultures. The summer after I finished high school, I went on a month-long trip through France and Spain where I had the opportunity to practice my French and eat some yummy food! In my free time, I love to bike, swim in the lakes in Madison, and make some art just for fun! I can't wait to swap out lakes for the ocean this summer, and meet all of you. À bientôt!
ANNIE MAHONEY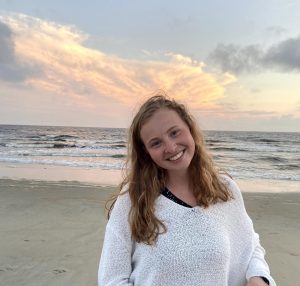 Salut! My name is Annie and I'm thrilled to be coming to Canoe for the first time this summer! I'm originally from Virginia, but I'm currently a rising Junior at Bowdoin College in Maine where I study French and Math. I'm also in an acapella group, on the swim team, and a trip leader for our Outing club at Bowdoin. Outside of those groups, I love hiking, throwing the frisbee, and playing cards (or catan) with friends. Since I started taking French classes in middle school, I've been hooked. I'm planning to study abroad in Cameroon next year, and I'm really looking forward to sharing my love of the language with our campers! I haven't spent much time on the West Coast, so I can't wait to experience the beauty of the San Juans. À bientôt!
JUSTIN SAINT-LOUBERT-BIÉ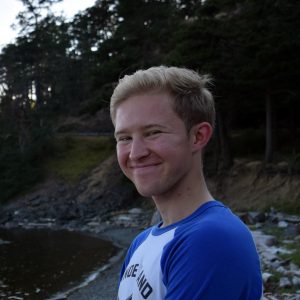 Bonjour à tous ! For those of you who don't know me, I'm a French-American from California studying in Chicago, but my real home is Canoe. I was a camper for four years, an assistant for two, and this is my third year as a counselor. So obviously I'm so excited to be back on the island for another summer! In my free time, I sing, swing dance, play piano and guitar, write, and sometimes play chess. I'm sad about all the memories we weren't able to make together last summer, but I really look forward to meeting you this summer, or if I've met you, to finally see you again. À bientôt !
KIMBERLY TAYLOR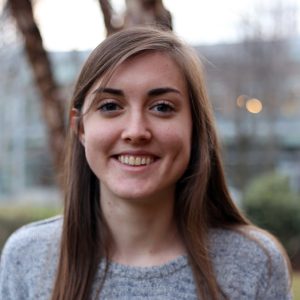 Salut! My name is Kimberly and I can't wait to be back on Canoe Island (I started coming to camp back in 2009 and have been a camper, assistant, and counselor). After graduating from Whitman College (where I studied psychology and computer science) during the pandemic, I moved to Seattle where I have been working as a legal assistant for a civil rights attorney. When I'm not working, I love to read, sit outside in the sun (I take every opportunity I can in cloudy Seattle), eat chocolate, pet dogs, listen to podcasts, cook, and daydream about traveling again. I am looking forward to leading cuisine, les arts, piscine, singing camp songs, and laughing a lot. À bientôt!
LILIANA CHOMSKY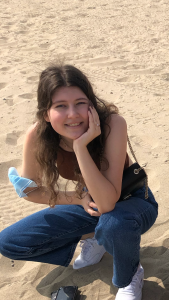 Salut à tous! I am psyched to be returning to Canoe this summer as a counselor. Over the past four years I have been both a camper and volunteer assistant. I attended a kindergarten through 12th grade french immersion school in Los Angeles, and am a rising sophomore at Loyola Marymount University located in the same city. My passion and focus of study is film and television production with a double major in screenwriting. In my spare time I enjoy photography, acting, swimming, playing piano and gaming. I have traveled through France and other surrounding countries, immersing myself even further in the french culture. Having a myriad of exceptional experiences at Canoe, I look forward to bringing that energy to the camp this summer. Bisous!
SAM LAVAN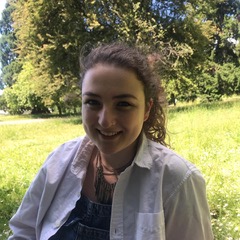 Bonjour! My name is Sam, I'm a rising Junior at Reed College in Portland Oregon studying History and minoring in French! I went to a French immersion school in San Francisco for K through 8th grade and I've been craving French conversation and culture ever since. I'm so excited to meet all of you, I have a felling that this summer is going to be great! À bientôt!
SHAUN MCGOVERN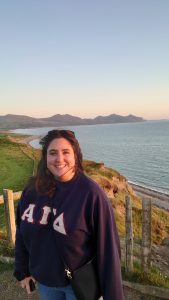 Salut les amis ! My name is Shaun and this is my first year at camp (so exciting!). I'm expecting so many great experiences on Canoe this summer. I'm particularly looking forward to playing guitar at campfire singalongs, going on nature walks, stargazing and leading astronomy nights, teaching and learning new crafts, and making some amazing memories and friends en français ! I am originally from Maryland, where Chesapeake Bay restoration projects sparked my love of ecology. I graduated with a degree in Middle School Education from Towson University in 2017, and then went on to live and teach in Béziers, France for 2 years. Looking for more language learning adventures, I moved to Caernarfon, Wales to begin a Masters degree in Bilingualism and to learn Welsh. In my spare time I lovesinging and writing songs, painting and crafting, practicing yoga and swing dancing, baking and cooking, and learning about the natural world around me. I'm really excited to meet everyone this summer and to be a part of such a great Canoe Island community! À très bientôt !
SKIJLER HUTSON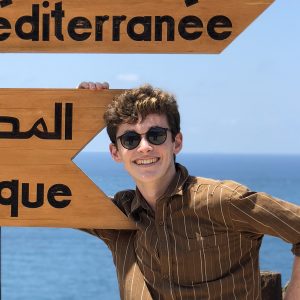 Coucou tout le monde! I'm Skijler Hutson and I'm so excited to spend my first summer at Canoe this summer (a year deferred, mais c'est la vie!). I'm from Los Angeles, but I currently go to school at Duke in North Carolina so I am really excited to get back to the West Coast and explore Washington state as well. I study literature at school so I love to read and write as well as hike, be outside, play sports, and travel. Kind of feels surreal that I'm finally coming out there, and I can't wait to meet you all — j'ai trop hâte!
WILLA BARNETT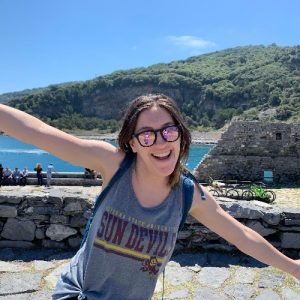 Salut tout le monde! My name is Willa and I will be working as a caregiver (oooh a new position!) at Canoe this summer. I worked as a program assistant in summer 2018 and 2017 and wayyyyy back when I was a camper. I took a gap year before college to work in Montpellier, France and study theater in the US and I'm always down to talk about big travel dreams. My most recent adventures have involved a lot more homework, I'm currently a second year at Emory University in Atlanta (and also over Zoom). When I'm not writing a bio you can find me writing songs, making theater or spending time outdoors. So excited to meet everyone! À bientôt!
"My daughter is excited and gearing up for her second summer as a counselor! At college, she's teaching French to kids in a local grade school, and her French professor asked her to be a writing tutor for a 300-level French literature class. (I figure I can brag about this to you, since you got her started–she never had a lick of French before her first session at Canoe Island, less than 6 years ago!) Thank you for helping her find her passion!" ~Lori, Portland, OR