Half of our counselors come from France specifically to bring French culture and a native accent to campers. We personally interview every candidate, receive at least two positive professional references, and do background checks on all staff including our support staff. French applicants come with the highest recommendations from respected international counselor agencies that interview them, check references, do background checks and guarantee their respectability. Together with the American counselors, they form an energetic, enthusiastic and fun team to provide a memorable summer experience for your child.
Executive Director

Ben Straub, originally from Eastern Pennsylvania, serves as Canoe Island's executive director. Ben brings fine technical and mechanical skills to most applications of construction, woodworking, metalworking and manufacturing. Before coming to Washington, he produced and sold museum-quality kaleidoscopes and wooden accessories that were represented in approximately 130 galleries nationwide. Ben has been involved with two philanthropic efforts in South America.
Camp Director

Margaret Schafer has filled many roles on Canoe Island (including animatrice!) and now serves as the Camp Director. She hails from Illinois and has a background in French and English literature, as well as a graduate degree in information science. She has studied, traveled, and worked in France. Margaret lives year-round on Canoe Island with Ben and their dogs and enjoys metalworking, woodworking, and hiking in her free time.
Camp Dogs

Eloise and Adelaide live year-round on Canoe Island. They are sweet and well-behaved Australian Shepherds who love playing catch and learning new tricks. The dogs spend most of their time outdoors and do not enter the dining hall or tipis or go on the pool deck.
2019 SUMMER STAFF
AMAURY BONNEAU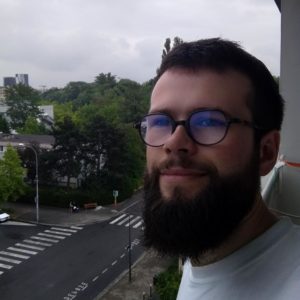 Salut tout le monde! My name is Amaury, I was born in Nantes, and I studied Education and Community Management in France (Tours, Nantes, Alençon). I'm so excited to discover Canoe Island French Camp – indeed, it will be my first year as counselor on Canoe. I've been a counselor many times in France, and am currently a Community Manager in Strasbourg, I've also previously been an Education Counselor in a high school in Nantes. I've played guitar for a long time and am fond of cooking. I've travelled all across my country and have discovered the best French landscapes – we'll discover these together. J'ai hâte!
ANDREA SIBELLA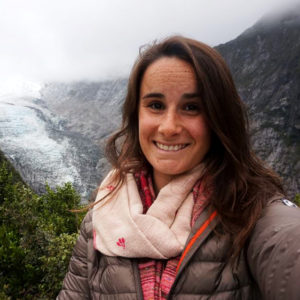 Bonjour tout le monde! My name is Andrea, I will be coming to Canoe Island this summer for the first time, and I am very excited about that! I currently live in the South of France where I work as a counselor in a primary school. I have been working with kids of all ages for six years now. Before settling in Toulouse, I worked and travelled in many different places around Europe, and then in Asia and New Zealand. Traveling is what defines me and I also like outdoor activites like hiking, climbing, snowbarding, wakeboarding… I love to teach dancing – I like all types of dance as long as there is music on! – and acting. I am also fond of food, and excited to lead French cuisine classes. And of course I am already excited about teaching my mother tongue to American people. Looking forward to discovering this magical place and spend my summer with you guys !
CLAIRE ARENSMEYER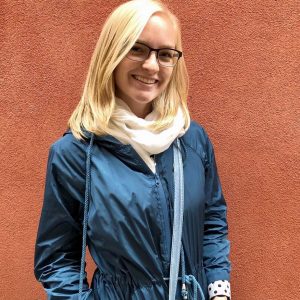 Salut! My name is Claire and I am so excited to spend the summer on Canoe Island! I am originally from Spokane, Washington but I am currently studying French, Spanish and History at Western Washington University in Bellingham. I have also studied at the Université de Nantes in France for a semester as an exchange student. I absolutely love speaking French and learning about Francophone culture and history, so I am thrilled to be able to spend my summer pursuing my passion for these subjects and teaching them to our campers. When I am not studying, I love to read, bake, travel, and play the piano. As a first-time counselor, I am looking forward to being a part of the Canoe Island community, learning a lot, and having new experiences! À bientôt!
ISABEL ALEXANDER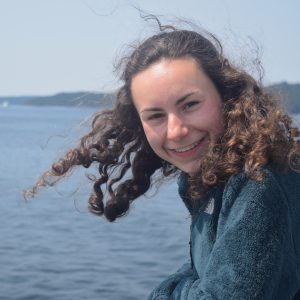 Salut tout le monde! My name is Isabel and I'm SO excited to be returning to Canoe for my second year as a counselor. Originally from Seattle, I've been both a Canoe Island camper as well as a volunteer assistant in the past. This summer I'll be leading a variety of activities including cuisine, ceramics, yoga, ultimate frisbee, archery, and hopefully more! The San Juans Islands are my favorite place in the whole world and I'm so glad that I get to share this special place with all of you. I'm currently studying French, environmental studies, and biology at Bowdoin College in Brunswick, Maine. When I'm not studying, I enjoy reading, any outdoor activities, photography, dance, and writing. I also love traveling and have visited France as well as a few other Francophone countries. Summer can't come fast enough, à bientôt!
JUSTIN SAINT-LOUBERT-BIÉ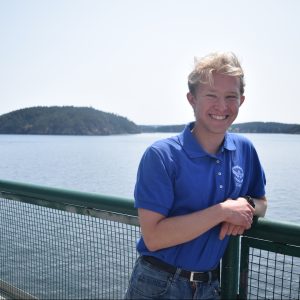 Salut tout le monde! I'm so excited to be back on Canoe this summer! For those of you who don't know me, I was a camper for four years, an assistant for two years, and a counselor for half a summer. So in case it's not obvious, I love Canoe! I'm originally from Redwood City, California, but this year I've been studying at the University of Chicago in (you guessed it) Chicago. I'm also French, but I think that's kind of obvious from my name. In my free time, I like doing theater, making music, swing dancing, taking photos, writing, reading, and spending time in nature. I can't wait to meet everyone, or in some cases, see you all again! À très bientôt sur Canoe!
MARIA CAMILA RIANO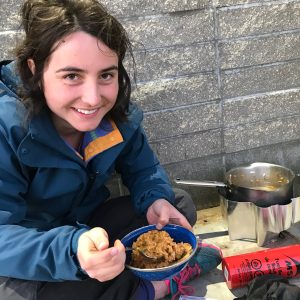 Bonjour!
My name is Maria Camila but I go by pc. I go to Bowdoin College in Maine, but am from San Francisco, California. I am originally from Colombia and speak Spanish at home. I went to a French school from kindergarten until 12th grade. In my free time I enjoy painting, hiking, canoeing, and playing sports. I'm an incoming sophomore, and this first year have enjoyed a variety of activities and interests from biology and chemistry to frisbee and water polo. I'm excited to be working at Canoe Island this summer!
À bientôt!
MONRIQUE HENNIG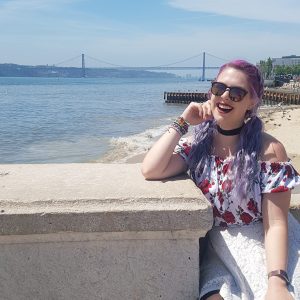 Coucou tout le monde! My name is Monrique. I am beyond excited for my first summer with Canoe. I've been told so many marvellous tales of this special camp, that I already feel like part of the family. I was born and raised in Pretoria, South Africa. The travel bug bit me when I was very young and my taste for adventure has been insatiable eversince. I've both lived and worked in the US and France, so I am very comfortable navigating and eventually integrating into new cultures. I just completed my second year teaching English in France. I fell in love with the French language and culture as a teenager, thanks to an amazing and dedicated French teacher. Mastering French (or trying to #thestruggleisreal), is one of the best skills I have acquired and one of the best gifts one could give a child. In my free time I enjoy painting with loads of colours, reading fantasy noves and being active outdoors. Hiking, yoga and horseriding being at the top of the list. I am looking forward to meeting all of you and hopefully passing on my love of French to some young adventurers!
SARA MEYERS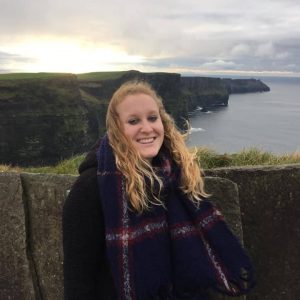 Coucou mes amis! I am super excited to come back to Canoe for my third summer, as I have been obsessed with this camp and this island since 2017. At Canoe, I get to do some of my absolute favorite things: spend lots of time outdoors, teach, speak French, paddle various types and sizes of watercraft, eat delicious food, practice and teach yoga, sing, play ukulele, be creative, be absolutely ridiculous, and lastly, learn something new every single day! I love getting to know all the campers and the staff and form a tight knit community on our little remote island. Outside of Canoe, I grew up in Wisconsin, and since graduating from university there in 2017 with a degree in French and Education, I've spent time traveling, teaching English in France, and teaching French in the US. Can't wait for another dream summer! À bientôt!
YANN ROLL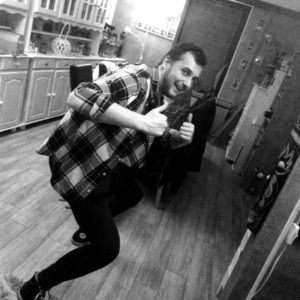 Hi! My name is Yann, I am 20 years old, and I live in Seremange-Erzange, not to far away from Metz, in France. I have never been outside of France, so I am excited to work at Canoe Island this summer. During my free time, I enjoy reading mangas or playing different sports with friends. I have been working as an activity leader in a holiday center for school children for the past three years. Currently, I am studying a bachelors degree in Langues Etrangères Appliquées in Metz. Also, tattoos really fascinate me and I enjoy cooking – although what I like best is to eat. I look forward to seeing you all soon and that it will be the best summer of my life!
"My daughter is excited and gearing up for her second summer as a counselor! At college, she's teaching French to kids in a local grade school, and her French professor asked her to be a writing tutor for a 300-level French literature class. (I figure I can brag about this to you, since you got her started–she never had a lick of French before her first session at Canoe Island, less than 6 years ago!) Thank you for helping her find her passion!" ~Lori, Portland, OR