CALENDRIER 2022
Open House for New Families Saturday, June 25 FREE All ages are welcome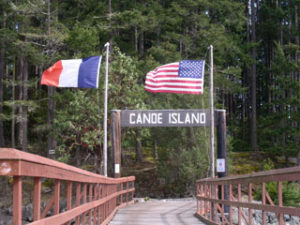 At this point, our plans for Open House are tentative; our decision will depend on the pandemic and the risk to guests and staff. We will make a decision on Open House in the spring. If you would like to receive notice on whether CIFC will hold an open house in 2022, please add your name and email in this short form.
Open House provides a chance for new families to tour the island and meet the staff. New campers attending Session 1 may stay overnight with full supervision and special activities until other campers arrive on Sunday. A light buffet will be served and the pool and tennis court will be open. All persons wishing to attend Open House must register online by June 1st.
---
Session 1 La Révolution Française Sunday, June 26 – Thursday, July 7 Ages 9 – 16
Level A $2275 Level B $2535 Level C $2790 (multiple fee explanation)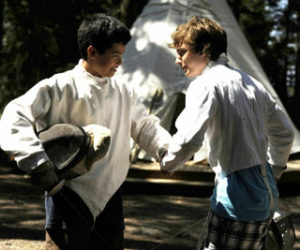 Waitlisted
Storm the barricades (with water balloons), sing La Marseillaise, and become Louis XVI or Marie Antoinette for a day. Or be a peasant and demand your rights as you issue your doléances to the king. Search the island for the royalty before bringing them to justice. Learn how the American Revolution helped to instigate the French Revolution. Fencing, theater, archery, boating, and sports are all a part of this session.


Click to expand.
---
Session 2 Les Voyageurs Sunday, July 10 – Thursday, July 28 Ages 9 – 16
Level A $3180 Level B $3600 Level C $3990 (multiple fee explanation)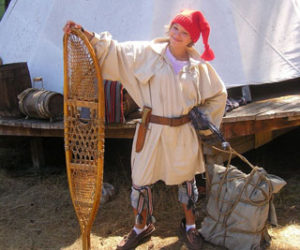 Waitlisted
Form your own colony, make fire with flint and steel, and venture to neighboring islands as you explore the traditions and travels of the French Voyageurs and Native Americans. Share gifts in a potlatch, shoot bows and arrows, do traditional arts and crafts, and cook outdoors. Overnight trips by kayak, canoe, sailboat, or hiking are offered this session. Celebrate Bastille Day and follow the Tour de France bicycle race.


Click to expand.
---
Session 3 Le Monde Francophone Sunday July 31 – Thursday, August 18 Ages 9 – 16
Level A $3180 Level B $3600 Level C $3990 (multiple fee explanation)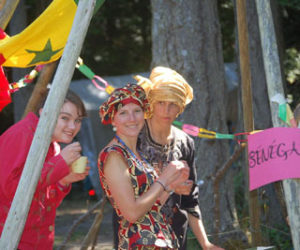 Waitlisted
Polynesia, Africa, the Caribbean, North America, and Asia: explore other countries where French is spoken. Represent your chosen francophone country with your team as you compete in Les Jeux de la francophonie in your favorite sport and present your region in a World's Fair of native foods, crafts, clothing, and games. Listen to Cajun music, try Vietnamese food, and make your own West African steel drum. Canoe across the channel to Shaw Island for an afternoon of beach play.


Click to expand.
---
Session 4 Les Chevaliers Sunday, August 21 – Thursday, September 1 Ages 9 – 16
Level A $2275 Level B $2535 Level C $2790 (multiple fee explanation)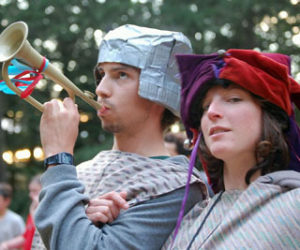 Waitlisted
Celebrate chivalry, knights, kings, queens, and dragons from Les Chevaliers de la Table Ronde to the Middle Ages. Learn to fence, become Lancelot or Guinevere in theatrical productions, and practice archery and traditional arts and crafts. Go on a quest with your team across the island to find your reward. Use a trébuchet, put on a puppet show, share your special talent during the Spectacle de Jacques Martin, and try traditional sports. This shorter session is great for first time campers.


Click to expand.
---
If a session is full and you would like to be on a waitlist, please add your child's name to the wait list here or contact us at info@canoeisland.org.
MULTI-LEVEL TUITION STRUCTURE
Our voluntary three-tier tuition structure allows families to pay more than the base level tuition that has traditionally been requested. These additional funds help fund our camp infrastructure projects to insure that our facility continues to support our excellent programs. Your choice of fee level will be treated confidentially. We thank you, in advance, for your registration at whatever tuition level you are comfortable. We do have a financial aid program for academically motivated children who need financial assistance to attend camp.
Level A is our base tuition level, that requires outside funding efforts to cover the direct and indirect costs of operating, maintaining, and upgrading the camp.
Level B is a higher tuition level that covers about 90% of the true costs of operating, maintaining and upgrading the camp including our low camper to staff ratio and the maintenance and up keep of our buildings, boats, equipment and island infrastructure.
Level C is our highest tuition level that covers all of the true costs of operating camp.