Half of our counselors come from France specifically to bring French culture and a native accent to campers. We personally interview every candidate, receive at least two positive professional references, and do background checks on all staff including our support staff. French applicants come with the highest recommendations from respected international counselor agencies that interview them, check references, do background checks and guarantee their respectability. Together with the American counselors, they form an energetic, enthusiastic and fun team to provide a memorable summer experience for your child.
Executive Director
Ben Straub, originally from Eastern Pennsylvania, serves as Canoe Island's executive director. Ben brings fine technical and mechanical skills to most applications of construction, woodworking, metalworking and manufacturing. Before coming to Washington, he produced and sold museum-quality kaleidoscopes and wooden accessories that were represented in approximately 130 galleries nationwide. Ben has been involved with two philanthropic efforts in South America.

Camp Director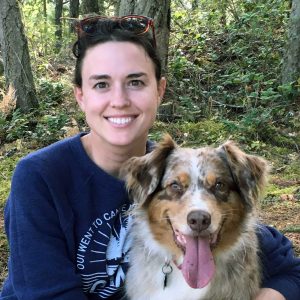 Margaret Schafer has filled many roles on Canoe Island (including animatrice!) and now serves as the Camp Director. She hails from Illinois and has a background in French and English literature, as well as a graduate degree in information science. She has studied, traveled, and worked in France. Margaret lives year round on Canoe Island with Ben and their dogs and enjoys metalworking, woodworking, and hiking in her free time.

Facility Assistant

Addison Baldeshwiler is part of the year round staff of Canoe Island as facility assistant and caretaker. Addison has been working in a variety of camp roles for almost 10 years, where his passions are mostly centered in and on the water. He is very excited to be a part helping camp move smoothly year round and to offer his experience where he can. Addison grew up in Illinois and studied photography in Chicago before learning about Outdoor Education in Michigan. He earned his Wilderness First Responder to better aid in his volunteering with Wilderness and Mountain Search and Rescue. Addison is working on his scuba certification to eventually photograph underwater wildlife.

Camp Management Intern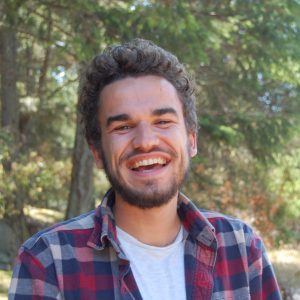 Nicolas Yviquel comes from Nantes, France. His passion for education and languages brought him back to Canoe Island after being a counselor during the summer 2017 to serve as our camp management intern. He studied English and Education for three years in his home city before living in Scotland for a year as a French assistant teacher. These experiences nourished his desire to share his culture abroad. Being a counselor at Canoe Island during the summer 2017 was therefore a perfect continuation of this mission. He developed a love for American camps in general and Canoe Island French Camp in particular. Nicolas' wish to pursue a career in camps began on Canoe, so becoming part of CIFC's year-round team as an intern was a natural step for him. He plans to totally immerse himself in developing our program and marketing. Nicolas is also interested in film making, hiking, sustainable development, and science and hopes he will be able to develop and use these interests with our staff and campers.

Camp Dogs
Eloise and Adelaide live year-round on Canoe Island. They are sweet and well-behaved Australian Shepherds who love playing catch and learning new tricks. The dogs spend most of their time outdoors and do not enter the dining hall or tipis or go on the pool deck.
2017 SUMMER STAFF
CHARLOTTE MEGRET – Lead Counselor
Salut à tous! I am really excited to come back to Canoe Island this summer! I come from Nouvelle Caledonie but have lived in a bunch of different places including France and Quebec. I am a traveler and a teacher at heart and have been enjoying my life as a language teacher for three years after graduating from McGill University (Canada) with a degree in Education. I went to camp every year since I was 8 years old and have been working at camps for the past 6 summers. I am a very bubbly and positive person and in my free time I like to draw, paint, dance, and go scuba diving. I just spent eight months in Oceania and I am excited to share my experiences and to hear what you all have been up to this year! I look forward to going snorkeling and to making delicious food with all of you. A bientôt!

Salut! My name is Adam and I live in Lyon. I was born in Chicago but moved to France when I was five. I've lived in different places and I am fluent in English, French and Arabic. I also can speak German conversationally. I am really looking forward to spending the summer on Canoe, being a counselor and teaching French. Can't wait to meet you all. A bientôt !
MÉLODY BOYANCE
Salut ! My name is Melody and I am very excited to meet you all this summer. I come from a small village lost in the hills, but I studied in Nice, a sunny and cheerful city in the south of France! I studied English for three years and am currently a language assistant in Scotland. Being a very curious person, I am interested in everything but I have two main interests: dance (which I have been practicing for 15 years) and everything related to astronomy (I am also madly in love with cows…). When I was younger, I used to go to camp every summer in different places in France. I was able to discover several regions such as l'Ariège, La Vendée, les Alpes et la ville de Paris. Being able to be on the other side is something I really look forward to. I can't wait to share wonderful experiences with you! A bientôt!

YANN DARDONVILLE
Bonjour tout le monde! After spending so many years on Canoe as a camper and a volunteer, I am delighted to be joining the staff for my first summer as a counselor. I was born in Paris but moved to Seattle when I was three, and grew up speaking both French and English. I now attend Whitman College in Walla Walla, where I am planning on double majoring in Spanish and politics. I absolutely love music—I write songs, play multiple instruments (like piano and guitar), sing with an a capella group—and am very excited to be leading musical activities on the island this summer! Other things I like to do include reading, acting, playing soccer, studying languages, and staying up to date with current events. I am so excited to spend another summer on the island sharing wonderful experiences with all of you. A bientôt!

IMANE ELHACHIMI
Bonjour à tous. I'm French and I live in Toulouse in the south of France but I was born in a city next to Bordeaux. I'm currently in my second year studying English. This will be my first time as a camp counselor at Canoe Island and I'm so excited to join the camp this summer! I love to be active. As a result I really like team sports, such as soccer, basketball, or rugby, and I enjoy hiking in mountains. I love cooking and I have prepared some delicious recipes to share with you. I also have done theatre and I'm thrilled to share this passion with you. I can't wait to see you all and share my culture with you. A très bientôt.

CLAIRE LETELLIER
Bonjour à tous, my name is Claire, I'm 23 years old and I finished my master degree In July. I've been living in London for the past year. This is the first time coming to Canoe Island French Camp and I'm very excited to have this experience. I love to travel with my backpack in nature, sports and I used to play flute. I am looking forward to meeting you and to teaching French! See you soon!
CHRISTINE MENGES
Salut tout le monde! My name is Christine, I'm 25 years old, and this will be my first year at Canoe! I graduated in 2015 from the University of Portland with a B.A. in French Studies. I traveled to France for the first time in the spring of 2014, when I studied abroad in the city of Nantes. That experience made me fall in love with France even more, so I decided to return. The past two years, I've been working as an English teaching assistant in various high schools in France. While in college, I worked on both my student newspaper and yearbook, so I'm thrilled to help with le journal at camp. I've also always been a creative person, taking art lessons throughout my childhood, so I can't wait to take on my role as arts and crafts lead. In the future I hope to become a journalist, but until then I will share my love of French with you all. A très bientôt!

SARA MEYERS
Coucou! My name is Sara, and I am very excited for my first summer at Canoe Island French Camp! I am 22, a Midwest native, and live in Madison, WI, where I will graduate from the University of Wisconsin this May. I am studying to be a French teacher, so I am currently doing my final semester of student teaching at the high school level. I spent my junior year of college living and studying in Aix-en-Provence, where I was able to speak and learn lots of French, make new friends, try loads of new foods, and travel throughout France and Europe. Besides French, food, and travel, I'm passionate about the outdoors (especially water activities and hiking), yoga, rollerblading, supporting Wisconsin sports teams, and making international friends. I can't wait to meet you all! A bientôt !

KIMBERLY TAYLOR
Bonjour! I am thrilled to be coming back to Canoe Island for my eighth summer (five as a camper and two as a volunteer). I am currently studying at Whitman College which is located in the small town of Walla Walla, Washington. My favorite courses so far have included a French class focused on Afro-Caribbean texts and Intro to Psychology. This school year, I have been involved in student government and I have been working at a local elementary school as an intern for America Reads. Growing up, I always loved cooking and baking so naturally I cannot wait to lead French cuisine this summer. I also enjoy being active and especially like basketball, volleyball, and swimming. I am looking forward to making more wonderful memories and friendships at Canoe.

LIEM TU
Bonjour à tous! My name is Liem Tu and I am from Mercer Island, Washington. I'm really looking forward to being part of Canoe Island French Camp for the first time this summer. I am a student at Bowdoin College in Maine, majoring in Francophone Studies and Government & Legal Studies. I am currently on a study abroad year in Lyon, and this year I have gotten to see many different parts of France and Europe. I have spent past summers in Senegal and Nova Scotia, but the Northwest remains my favorite summer locale. I have been passionate about sports for as long as I can remember, especially basketball, football, and soccer. In my free time I love traveling, hiking, reading books, hanging out with friends, and eating French food. A bientôt!

NICOLAS YVIQUEL
Salut à tous! My name is Nicolas, I'm 23, and I'm from Nantes. This summer is my first on Canoe and I'm really looking forward to meeting you guys! I graduated last year from university with a degree in English and Education. This year I've had the chance to live in Scotland, working as a French assistant teacher. If I had to choose an idea to describe myself it would be that a good talk is always the solution to any problem or the key for all good relationships to last. This summer I will have the chance to lead the French culture and fencing activities and will also be involved in the French cuisine, film activities, and the journal. I'm sure we will have good fun enjoying these different activities together. I'm really passionate about learning new skills and ideas, and will am excited to learn from you as well! A bientôt !

"My daughter is excited and gearing up for her second summer as a counselor! At college, she's teaching French to kids in a local grade school, and her French professor asked her to be a writing tutor for a 300-level French literature class. (I figure I can brag about this to you, since you got her started–she never had a lick of French before her first session at Canoe Island, less than 6 years ago!) Thank you for helping her find her passion!" ~Lori, Portland, OR