Half of our counselors come from France specifically to bring French culture and a native accent to campers. We personally interview every candidate, receive at least two positive professional references, and do background checks on all staff including our support staff. French applicants come with the highest recommendations from respected international counselor agencies that interview them, check references, do background checks and guarantee their respectability. Together with the American counselors, they form an energetic, enthusiastic and fun team to provide a memorable summer experience for your child.
Executive Director
Ben Straub, originally from Eastern Pennsylvania, serves as Canoe Island's executive director. Ben brings fine technical and mechanical skills to most applications of construction, woodworking, metalworking and manufacturing. Before coming to Washington, he produced and sold museum-quality kaleidoscopes and wooden accessories that were represented in approximately 130 galleries nationwide. Ben has been involved with two philanthropic efforts in South America.

Camp Director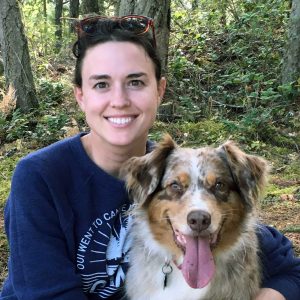 Margaret Schafer has filled many roles on Canoe Island (including animatrice!) and now serves as the Camp Director. She hails from Illinois and has a background in French and English literature, as well as a graduate degree in information science. She has studied, traveled, and worked in France. Margaret lives year round on Canoe Island with Ben and their dogs and enjoys metalworking, woodworking, and hiking in her free time.

Camp Management Intern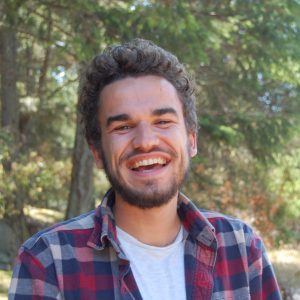 Nicolas Yviquel comes from Nantes, France. His passion for education and languages brought him back to Canoe Island after being a counselor during the summer 2017 to serve as our camp management intern. He studied English and Education for three years in his home city before living in Scotland for a year as a French assistant teacher. These experiences nourished his desire to share his culture abroad. Being a counselor at Canoe Island during the summer 2017 was therefore a perfect continuation of this mission. He developed a love for American camps in general and Canoe Island French Camp in particular. Nicolas' wish to pursue a career in camps began on Canoe, so becoming part of CIFC's year-round team as an intern was a natural step for him. He plans to totally immerse himself in developing our program and marketing. Nicolas is also interested in film making, hiking, sustainable development, and science and hopes he will be able to develop and use these interests with our staff and campers.

Camp Dogs
Eloise and Adelaide live year-round on Canoe Island. They are sweet and well-behaved Australian Shepherds who love playing catch and learning new tricks. The dogs spend most of their time outdoors and do not enter the dining hall or tipis or go on the pool deck.
2018 SUMMER STAFF
Salut tout le monde ! I am very excited to be back on Canoe Island for my third summer! When I am not on Canoe Island I am usually found travelling around the world teaching languages and exploring different cultures. I was born in New Caledonia, grew up in France and got my bachelors degree in Language Education in Canada. I have been teaching and working at summer camps for the past 7 years and was a camper from age 7 so needless to say that I love camp! In my free time I love to dance, draw or go snorkelling and diving! I am looking forward to another summer filled with French baking, Zumba and dock jumping!

JULIE PHELINE
Bonjour à tous ! I am more than excited to come back to Canoe for my third summer after being a counselor in 2015 and 2016! I am French and come from Nantes, a beautiful city in the west of France! I graduated last year from Dundee University (Scotland) in Comparative and Private International Law and after finishing my thesis, I did an internship for six months in an international organisation in the Hague in the Netherlands. I am a positive and dynamic person who loves to travel the world and discover other cultures, so far I had the opportunity to live in Finland, Scotland and the Netherlands. My others hobbies include sports, cooking à la française and movies ! I can't wait to see you all and spend a wonderful summer with you! A très vite !

ALI MORROW
Salut ! I am thrilled to be returning to Canoe Island this summer! I was a camper and a volunteer for a number of years, and I cannot wait to spend the summer on Canoe. I am from Bellingham, Washington and am passionate about the Pacific Northwest. I studied chemistry and history for a year at Haverford College in Philadelphia before deciding to take a year to travel and explore my extracurricular interests. Over the last year I earned my Remote EMT certification in the North Cascades, studied the intersection of environmental and political activism in Israel and I am currently interning on a sustainable vineyard in Tuscany. I love ceramics, kayaking, playing tennis and spending time in the great outdoors. I can't wait to spend the summer sharing my love of French culture and the San Juan islands with all of you!

MÉLODY BOYANCE


Bonjour à tous ! My name is Melody and I am very excited to meet you all this summer. I come from Méounes les Montrieux, a little village in la Provence, but I study in Nice, a sunny and cheerful city in la Côte d'Azur ! I worked as a language assistant in Scotland last year and I am currently taking exams to become a teacher ! Being a very curious person, I am interested in many things but what I like the most are cows, food and travelling. What I like to do during my free time is most of the time to play with my dog, to take pictures and marcher dans la nature. This year will be my second year on Canoe Island, I really enjoyed taking and printing pictures on the island with you ! I can't wait to share many more wonderful memories with you ! A bientôt !

YANN DARDONVILLE
Salut! Je suis de retour! I am so happy to be coming back for a second year as counselor after having been both a camper and an assistant for a long time. A little bit on me: although I have lived in Seattle basically all my life, I was raised in a French-speaking household. I now study Spanish and Politics at Whitman College in Walla Walla (in Eastern Washington). I love to play music, and I also sing with an a cappella group. I also enjoy reading, writing, acting, studying languages, playing soccer, and learning about nature! I'm looking forward to seeing all of you very soon! À bientôt!

SARAH PHILLIPS


Bonjour à tous! My name is Sarah and I am in my fourth year at St. Lawrence University, located in upstate New York, where I study French and Global Studies. I've always been curious about the world and I enjoy learning new things and having new experiences. I first fell in love with the French language when I started learning it in high school. Since then, I have been to France three times: once with my high school, the others as semesters abroad in Rouen and Bordeaux. In addition to France, I have also been to Quebec City in Canada and Dakar, the capital of Senegal. When I'm not traveling around the world, you can often find me reading a book, cooking, or exploring the outdoors. Though I am not a native French speaker (I grew up in a small village in Maine) I am very excited to be a counselor and share my love for the French language and the Francophone world with you. This will be my first summer at Canoe Island and I am looking forward to meeting you all! À bientôt!

PAUL GUGUEN
Salut tout le monde ! Two years after my first time as a counselor on Canoe, I'm so
thrilled to come back to this wonderful island and share new memories with all the campers and staff. I was born in Paris and I moved in different regions of France, such as La Bretagne, La Provence, Le Sud-Ouest… I live in Toulouse with my sister where I study economy and business. During my free time, I love to play the ukulele and watching movies. I am a cinema lover. I am also a football passionate and I love playing big games in outdoor. In my life I had the chance to visit some countries, most of them in Europe, plus Hong Kong, China, Canada and the US. Traveling and spending my life outdoors are probably the thing I like the most, including also staring at the stars and constellations when comes the night. Good thing we can do all that on Canoe Island! I can't wait to share all that with you campeurs!

ISABEL ALEXANDER


Salut mes amis ! My name is Isabel and I am so excited to be a counselor for the first time on the beautiful island of Canoe! In past years, I was a camper as well as program assistant and I can't wait to spend another summer in the San Juans. I'm originally from Seattle, and this summer I will have just completed my first year of studies at Bowdoin College in Brunswick, Maine. I love both Washington and Maine because of the ample outdoor opportunities they provide from hiking to skiing. My tentative academic plan is to pursue a double major in biology and francophone studies; I took classes studying francophone films as well as current events in France this year. I've also been fortunate enough to travel to France a number of times, most often visiting friends and family around different parts of the country. In my free time, I love to dance, read, play ultimate frisbee, take photos, and spend time outdoors. Get excited, cet été sera magnifique !

SARA MEYERS


Salut à tous ! I am extremely excited to return to Canoe Island French Camp for a second summer. I lived in Wisconsin for most of my life, where my family grows cranberries, and I attended the University of Wisconsin, where I studied French and Education and graduated in May 2017. I have also spent two years living in France! I have spent the past eight months living in Lyon, teaching English to middle school kids. I also lived in Aix-en-Provence, where I did a year of my university studies. I love to be outside, go hiking, spend time with new and old friends, teach languages, speak French, and travel. My favorite thing about Canoe Island is the tight knit community that forms there, as well as the beautiful île sauvage that we get to all live on. I can't wait to spend another summer singing songs at Inspiration Point, kayaking to Shaw, throwing tomahawks, tidepooling, and playing lots of ridiculous games with you all! A très bientôt 🙂

ERIKA DELFIN
Salut ! My name is Erika Delfin, I'm from Mexico and I fell in love with French culture when I was in high school, and I've been teaching French for 5 years in Mexico. I love travelling and camping, so I joined a summer camp in France where I had the amazing opportunity to meet people from different French-speaking countries. That's why I'm super excited about this new challenge, I'm sure is going to be a great experience and I can share and learn a lot. I am also passionate about women's rights; therefore, I've been working really hard to help in my community, especially through education.

CAMILLE MESCUNAN
Salut ! My name is Camille, I am 19 years old. I live in Nantes, in the west of France. I am a student at the University of Rennes, in psychologie. I am fond of cooking, that is why I will teach french cuisine at the camp but also archery. I am considering myself as a very curious and positive person. I am interested in cooking, hicking, listening to music and descovering nature in all its aspects. I am very excited to meet you all and to teach you french ! See you soon !

JULIAN TIFFAY
Coucou à tous ! I'm back – yay! I'm so looking forward to being on Canoe again this summer. Assuming lifeguard training goes well, I'll be leading various water activities, in addition to theatre (hello soirée au théâtre), cuisine (eating is one if my favourite hobbies – if that counts), and, of course, French class! Because learning a new language is fun – like actually, it's totally excellent, and very practical when traveling (another of my favourite hobbies!) I blame that last one on my parents: I grew up in northern Thailand, and then in semi-rural France, just across the border from Genève, and spent a (probably) unhealthy ammout of time taking airplanes. Since finishing lycée, I've lived in quite a few different places around the world, and have spent the last year and a half in Seattle, where I've gone to see as much theatre as I can. Musical theatre is by far my favourite type of live performance, and I love listening to (and singing along to, of course) soundtracks from various shows. I always find it very energising. Otherwise, I spend time being silly with friends, dreaming of sunny weather, and spontaneously jumping on ferries – sometimes all at once. I suppose I'm also finishing uni in Seattle, and am so nearly done; it's terribly thrilling. That's all for now – à bientôt sur Canoe ! 🙂

"My daughter is excited and gearing up for her second summer as a counselor! At college, she's teaching French to kids in a local grade school, and her French professor asked her to be a writing tutor for a 300-level French literature class. (I figure I can brag about this to you, since you got her started–she never had a lick of French before her first session at Canoe Island, less than 6 years ago!) Thank you for helping her find her passion!" ~Lori, Portland, OR