During "L'Été perdu" 2020, CIFC is offering several opportunities for our community to stay engaged and connected. All activities are free and open everyone. We hope you will consider participating!
French Education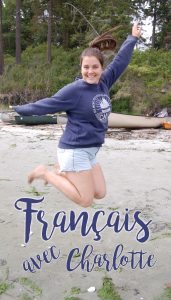 Charlotte Megret, longtime CIFC staff member, will be offering opportunities for our community to practice French this summer. Charlotte is a native Francophone who's also fluent in English; she has extensive experience teaching French and is a creative and empathetic teacher. She will be posting short daily videos en français on YouTube in a series called "Charlotte dans le sud." The videos will have some elements of our typical classes on Canoe Island such as "les mots du jour." We hope that campers will practice their listening comprehension, learn some new vocab at any level, and pick up some information about French culture.
Her first introductory video is posted on YouTube.
Journal/Time Capsule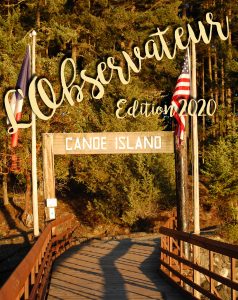 Anyone who has attended Canoe Island French Camp knows that each session campers and staff compose a "
journal"
known as L'Observateur. This souvenir book commemorates the session and preserves some of the memories of our time together. Although we are not coming together in person this year, we would like to create an issue of L'Observateur. For our 2020 version of L'Observateur, we are hoping to compile a time capsule of this very unique summer that celebrates our favorite aspects of camp while also reflecting the variety of our experiences back at home. All campers and staff, past and present, are invited to share memorabilia and creative submissions in the form of written reflections, poems or stories, photos, drawings or cartoons, song lyrics, recipes, or anything else you can dream up. We are compiling submissions in a printed color booklet that we'll be mailing out at the end of the summer.
Our overarching theme is Canoe Island's daily schedule as it plays out around the world in each of our "native habitats." Here are some of the categories we hope to include, along with a few suggestions to spark your inspiration, but the sky's the limit!
Activities (How have you been keeping busy at home? Have you learned something new or rediscovered an old hobby? Sports, music, dance, arts and crafts…)
French class (Any content in or about French, including tips for practicing the language, a book or movie you recommend in French…)
French culture (French/Francophone counselors and campers, I'm looking at you in particular—a glimpse into the COVID situation in your country, stories about your life at home, or other info)
Cuisine (Recipes, pictures, or stories of your quarantined cooking adventures)
Les choses à raconter (Local nature sightings in photo, drawing, and/or narrative form; memorable anecdotes)
Ah Mo (Your original stories, comic strips, or other creative writing)
Inspiration Point (Reflections on the current moment, what you love/miss about Canoe, what you're doing to help in your community)
Marisa Ikert, longtime CIFC editor-in-chief, will be spearheading the publication this year. Any submissions or questions can be sent to Marisa at journal@canoeisland.org. Help us memorialize L'Été Perdu de 2020!
Hashtag Challenges
We will be using Instagram this summer to highlight what are campers are up to during L'Été perdu. Every Sunday, we will post a hashtag and ask our community to share posts with the hashtag. On Friday, we'll share submissions on camp's account,
@canoeislandfrenchcamp
. For anyone whose account is private, please send a photo to @canoeislandfrenchcamp to allow us to feature your photo.